Come experience our unique therapeutic Thai & Ayurveda massages from our skilled & expert masseuses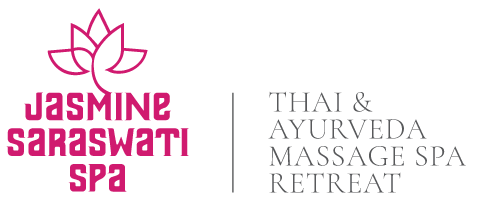 Pamper yourself at our sanctuary nestled in the quiet confines of Doi Saket. Nurture and nourish your body, mind and spirit at our Jasmine Saraswati Spa retreat offering a combination of the traditional Thai & Ayurveda massage.
Ayurvedic treatments is a form of massage that uses the age-old Indian system of balancing and strengthening the qi (a form of energy) within the body to restore health and beat stress.
Ayurvedic massage combines three types of movements – active (strong pressure), passive (delicate stroking) and persuasive (pinching or kneading the small muscles with the thumb and forefinger). Before the Ayurvedic massage, the therapist focuses their energy with a brief balancing meditation.
Our masseuse therapist are dedicated to bring the most authentic experience within the comfort of a relaxing, charming and spa-inspired oasis.
Give us a call to make your reservations: +6693-130-4400
BODY TREATMENT
Dry Neem Scrub | 60 mins
Himalayan Salt Scrub | 60 mins
Jasmine Journey | 6 hrs 30 mins
Organic Coffee Scrub | 60 mins
Swadhithana | 90 | 120 mins
PERSONALIZE SERVICES
Spa Facial Treatment | 60 | 90 | 120 mins
Healing Massage | 60 | 90 | 120 mins
SPA PAMPERING
Abhayanga | 75 mins
Aroma Massage | 60 mins
Foot Massage | 60 mins
Golf Deep Tissue | 60 | 90 | 120 mins
Mother-to-be | 60 | 90 | 120 mins
Signature Massage | 60 | 90 | 120 mins
Thai Massage | 60 | 90 | 120 mins
Tok Sen | 60 | 90 | 120 mins
Warm Shell Massage | 60 | 90 | 120 mins
MORE RELAXATION
Detox Bath | 30 mins
Hot Steam | 30 mins
Dry Skin Brush | 30 mins
Face Massage | 30 mins
On Spot Massage | 30 mins
Scalp Scrub | 30 mins
Stomach Massage | 30 mins
Head Massage with Sand Compress | 30 | 45 mins
Indian head massage | 30 | 45 mins